How do Cisco CCNP Certifications help Network Engineers Carry Out Day-to-Day Work?
In an enterprise business process, being a well-rounded professional is highly regarded as a valuable asset. More often than not, these professional are geared with a world-renowned certification that aids them in their day-to-day work. This certification is non-other than Cisco Certified Network Professional (CCNP) Routing and Switching certification, which is one of the most relevant certifications given by CISCO.
As CISCO is widely recognized, being a CCNP holder brings big benefits to any enterprise roles such as network engineer, support engineer, systems engineer or network technician. For a network engineer, the CCNP certification will go a long way in preparing them to accomplish their daily tasks. Here's how this certification makes working as a network engineer more manageable and fun every day.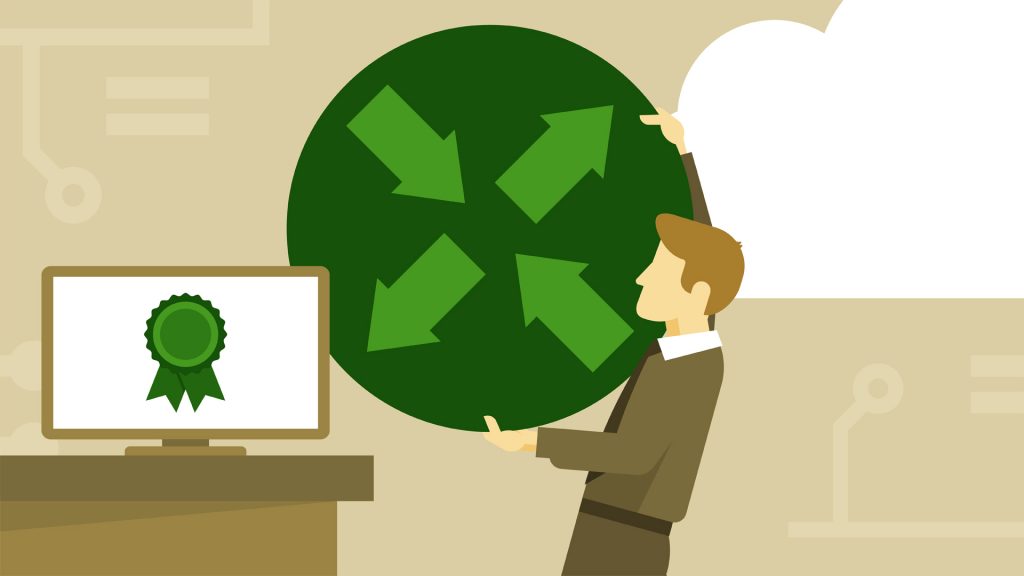 Equips with theoretical and practical knowledge
Cisco CCNP certifications equip network engineers with theoretical and practical knowledge on network connectivity. The router skills of a network engineer, for example, are certainly utilized and trained from the certification. With the aid of the certification, you can access multiple network devices such as switches, routers, and DSLAMS to verify different traffic types and configuration. Also, you can identify how a packet will behave on a VLAN, on a switch or a router, as well as input a configuration into a network device. With all these important knowledge as a network engineer, you will be in control in dealing with the process, creating and implementing plans, and carrying out projects. The protocol knowledge on routing and switching from this certification further provides a steadfast and lasting foundation because it demonstrates the skills needed for day to day work.
Covers different areas at different levels
The certification covers multiple levels and areas on the ability to work with routed and switched networks. This includes core skills in installation, formation, operation, and troubleshooting. Network engineers with CCNP certifications have achieved a certain level of competence. This also confirms that they have the right training, expertise, knowledge, and commitment needed in every aspect of the job. Accordingly, they can work with their job competently and competitively because of the extensive and effective coverage.
Provides hands-on experience
Recruiters and hiring managers best single out certified professionals because it shows that the person had worked for the certification. Passing the CCNP certification exam means that you truly understand and learn the complexities of a network. Through this, you gain more knowledge and skills through different hands-on experience. The length of period and amount invested in being a certified CCNP is not to be underestimated. Taking the exam requires shelling out a quite pricey cost, effort, commitment, and hours of good studying. Consequently, this investment is worthy of its price because it brings valuable benefits to the engineer and to the company being worked for. For personal benefits, being certified easily sets the network engineer apart from the average and accordingly gains access to more opportunities in return. Further, this allows employers to see that this individual has the extra mile attitude to achieve what's expected to work effectively and efficiently.
Impacts on reliability and profitability
Being certified is very important because recruiters use certain keywords in their job hunt for the right candidates. Their find is aimed to be seamless as they track down and filter individuals who are only equipped with recognized and reliable certifications. In fact, many companies require the certification in their job ads and not just make it as a preference. For the company's benefit side, the certification is very essential because, from the hiring manager's perspective, it will assure the company that the certified individual is adept, can protect them from online threats and is knowledgeable on the fundamentals and complex concepts of networking. Accordingly, this creates a great impact on their reliability and profitability, which are very useful in their daily work.
Proves one's exceptional skills
It is established that becoming a Cisco Certified Network Professional is not easy. Hence, being a certified network engineer portrays that you are hardworking, reliable, detail-oriented, and motivated. All of these prove your exceptional skills and your value to the company. Hence, this certification is unquestionably good for both personal and the company's side, most especially for the certificate holder as the certification brings one major benefits and creates wider job opportunities all around.
Opens up chances of job promotion
With CCNP certifications, there are more chances for network engineers to level up from their current position. Cisco certifications are recognized in any part of the world and open great career opportunities to their holders. In terms of salary, since the certification provides more knowledge & more experience, there is more leverage one can gauge for the salary that is hoped for. The certified network engineer has an edge to engage and be engaged for such leveraging given that one has a top-notch certification. The financial compensation is undeniably one factor that helps any professional carry out their daily work.
Keeps up with the updates and trends
In today's physical world and advancing technology, the CCNP certifications is valuable because it allows the engineer to stay up to date, be on the track of changes, and find ways to make the system adapt to new technology. Every day, there are new technologies on the loose, as well as risks and threats to the system. That is why being updated with the advancements is highly important. And when you study for a CCNP certification exam, you are furnished with advanced training courses, which are helpful in keeping up with the changes and trends. Further, these training courses shape the level of competence and preparedness of every network engineer.
Conclusion
Being a network engineer may not be an easy profession but with a CCNP certification, they are ensured of knowledge and skills at an optimum level. Without a trace of doubt, having a Cisco CCNP brings the best of a networking engineer. It aligns them to better career options and financial compensation. And above all, these notable certifications support them in their daily quests for real-time network designs and projects.