What Are the Best Microsoft Certifications in 2017?
This article walks you through the complicated process of choosing Microsoft Certifications and the differences between them. What are the best Microsoft Certifications in 2017? Look no further to find that out! The nomenclature of Microsoft Certifications can be quite confusing as well, read this guide to understand how they work just a little bit better!
The three categories of Microsoft Certifications
Microsoft offers premium Certification paths that show you have good working knowledge of all the software and hardware that they deal with. That's the simple way of putting it, but it is a bit overwhelming at first.
There are three categories of certifications today that will help take your career to the next level and propel you forward in the Tech Sector. Microsoft Certified Solutions Associate, Microsoft Certified Solutions Developer, and Microsoft Certified Systems Expert (Formerly Engineer). MCSA, MCSD, and MSCE. As you can see from the chart below, there are quite a few routes available! It's actually not as complex as it looks though. So what are the best Microsoft Certifications in 2017?  We will start with the MSCA level, as that is required for both MSCE and MSCD.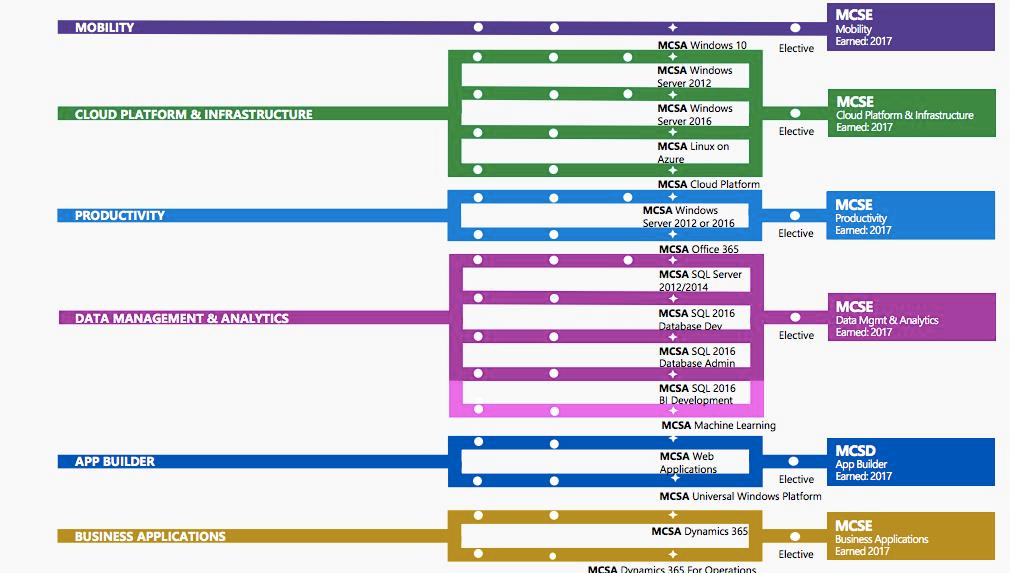 How do I become a Microsoft Certified Associate?
The Associate level is the base level for starting with Microsoft. To become certified, you have to take 2 or 3 exams in a specific subject. These exams test you on knowledge and application, showing that you are ready to work with a specific Microsoft Technology.  All you do is pick a path, take the required exams, and you are set to become an associate.
There are six broad areas that you can focus in. Each area has more specific, specialized skills as well. For instance, Cloud Platform & Infrastructure as seen below has four different MSCA Certifications that all require different exams to master.
Cloud Platform & Infrastructure
Windows Server 2016
70-740: Installation, Storage, and Compute with Windows Server 2016
70-741: Networking with Windows Server 2016
70-742: Identity with Windows Server 2016
Windows Server 2012
70-410: Installing and Configuring Windows Server 2012
70-411: Administering Windows Server 2012
70-412: Configuring Advanced Windows Server 2012 Services
Linux on Azure
70-533: Implementing Microsoft Azure Infrastructure Solutions
LFCS: Linux Foundation Certified System Administrator
Cloud Platform (Pick 2 out of 5!)
70-532: Developing Microsoft Azure Solutions
70-533: Implementing Microsoft Azure Infrastructure Solutions
70-534: Architecting Microsoft Azure Solutions
70-473: Designing and Implementing Cloud Data Platform Solutions
70-475: Designing and Implementing Big Data Analytics Solution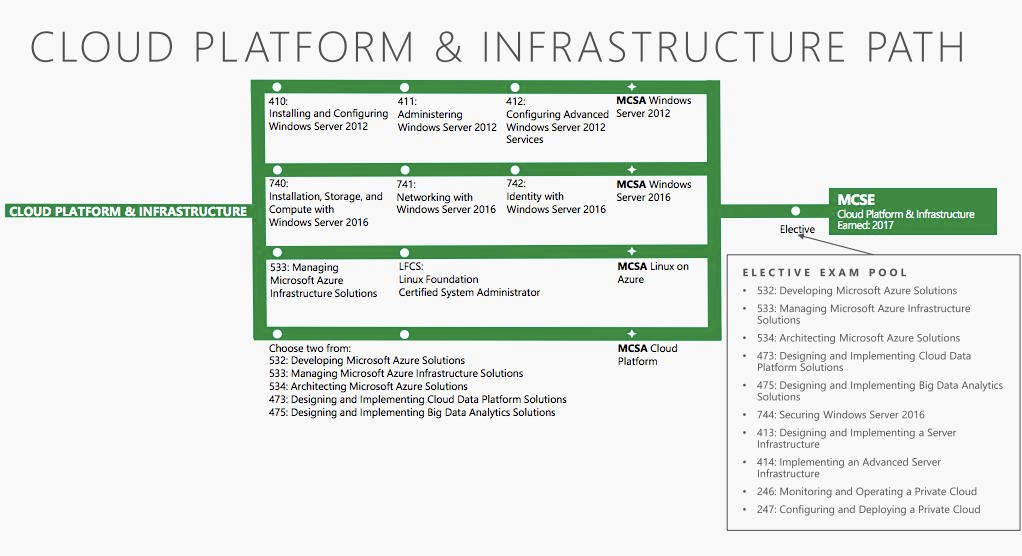 This chart shows all the available ways to get an MSCA in Cloud Platform & Infrastructure.
How do I become a Microsoft Certified Expert?
After becoming an Associate, becoming a Microsoft Certified Expert (MSCE) is relatively simple. Each Expert Certification requires that you first reach Associate level Certification. After getting an MSCA, you simply study for one more elective exam. Take and pass any of these elective courses and you obtain MSCE status which shows you are trained at the highest level in a specific Microsoft Technology. The chart below illustrates this.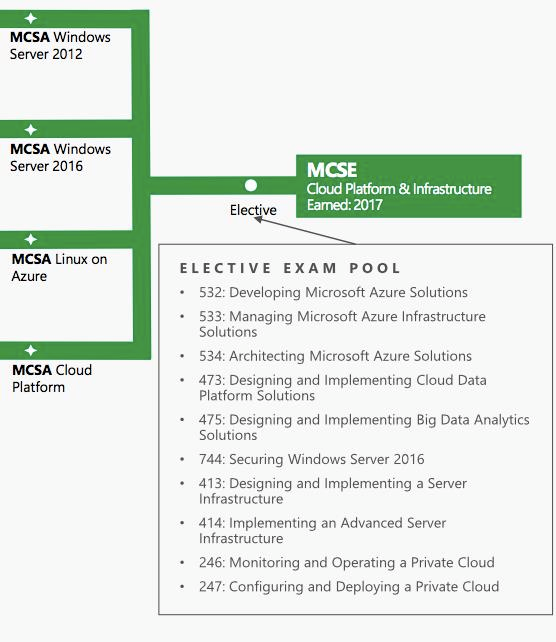 How do I become a Microsoft Certified Developer?
The last Certification path is that of the Microsoft Certified Developer. Only 1 of the 22 Certifications falls under the developer category. This route is for those who are creative problem solvers and want to work in Web and Mobile App Building. This track is very specific and consists of two different MSCA levels. The skillset required is different from the other IT skills as you need to know and be familiar with several programming and markup languages such as Java, C# and CSS.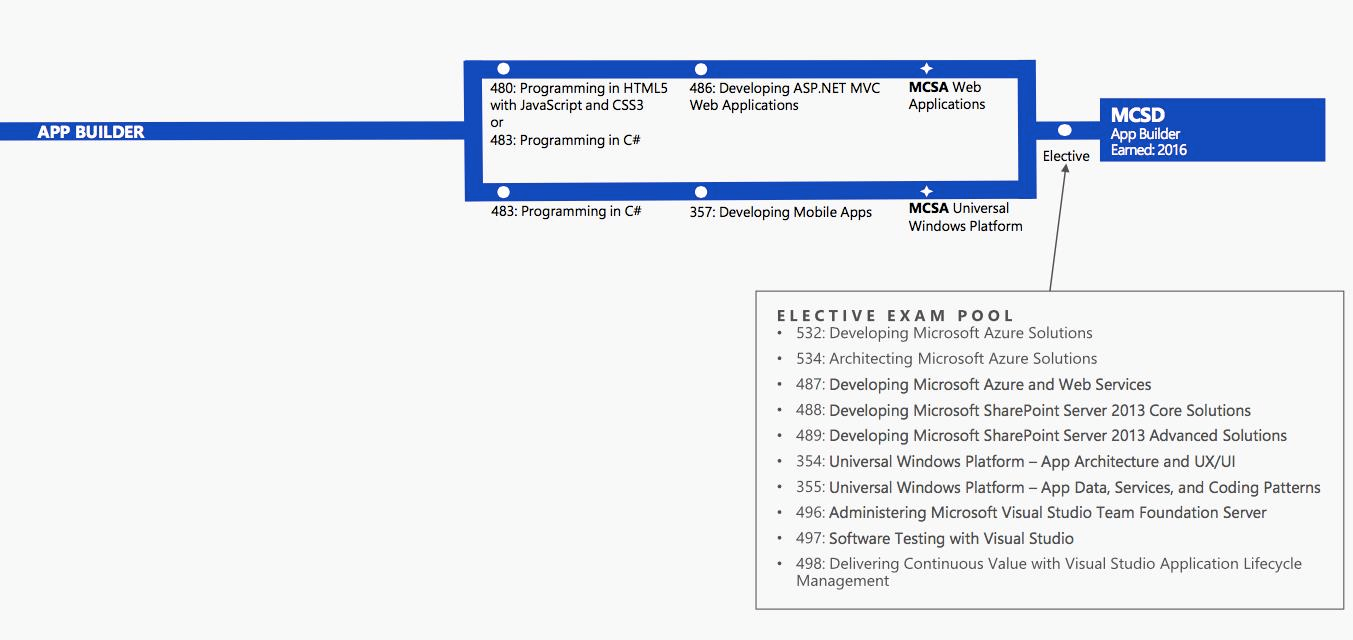 Which of the 22 Certifications should I pursue?
While there are so many pathways with Microsoft, it can be hard to pick the best route to follow. As of 2017 the three most in demand categories are Cloud Platform & Infrastructure, App Builder, and Data Management & Analytics. Pursuing these categories builds a foundation for jobs such Data and Server Management, Web and App Developer, and Server Engineer. From those three broad categories, we picked a best MSCD, MSCA, and MSCE certification for you to look into!
The Best MSCD Route
We recommend the MSCD as a unique certification that is sure to get you thrilling and challenging jobs building applications, for this cert take 70-483 and 70-357 along with an elective exam. Since there is only one MSCD, it is a bit harder to find in the market.
The Best MSCA Route
We also recommend the MSCA Windows Server 2016 or MSCA Cloud Platform in the Cloud & Infrastructure path. As the base standard for the modern server, Windows 2016 is the future of server set-ups and cloud skills are HIGHLY Desired. For Windows Server 2016 you take 3 exams 70-740, 70-741, and 70-742. For the MSCA in Cloud Platforms, you take any 2 exams from 70-532, 70-533, 70-534, 70-473, and 70-475.
The Best MSCE Route
One final path that is needed in the IT Sector today, is that of Data Management. With all the information being collected by businesses such as Facebook and Google, that data needs to be organized, explored, and used in valuable ways. The MCSE in Data Management & Analytics is becoming more and more valuable everyday as data collection and parsing grows. For this, it's recommended to take the 70-773 and 70-774 exams. This earns an MSCA that is in high demand currently, the Machine Learning MSCA. Than simply pass one of the 12 elective exams to become an expert in Data Management. We recommend 70-473, as you will then be 50% of the way done with you MSCA Cloud Platform Certification as well!
Where should I go to study for these certifications?
Whether it's MCSA, MCSE, or MCSD, an awful lot of experience and training goes into being certified. You need high-quality Microsoft dumps with both MSCA dumps and MCSE dumps that mirror the actual exams you take. Make sure to speak to actual people who have gone before you as well as check out the available resources that we offer. It can take a while to prep for all these tests! The internet has made pursuing IT much easier than it used to be with numerous study options online. Beyond finding high quality resources on YouTube, there are a bunch of GREAT resources online. Our favorite though is exam-labs.com. They offer free study materials, videos, and exams for practicing for every cert imaginable.
So Go Get Certified!
Thanks for reading this far! If this has helped you, make sure to comment here. Good luck on Certification and be sure to check back for more IT blogs!