How To Pass CompTIA Advanced Security Practitioner Certification (CASP)?
The CompTIA CASP Certification Exam is key to your professional credibility as a member of the global information technology workforce. With a key focus on advancing your competency in IT security, you will be extremely confident in offering your services to organizations, to defend them against real or perceived cybersecurity threats.  CompTIA, the creators of this prestigious certification, are committed to ensuring that you can prove yourself to be the best in this area of technical expertise. By proving your mastery of your craft, you will be even more confident to face the digital revolution that faces us all. If you're interested in passing the CompTIA Certification "Advanced Security Practitioner Certification" exam, then this is your ultimate guide to success in your exam.
What is CompTIA Advanced Security Practitioner (CASP) certification?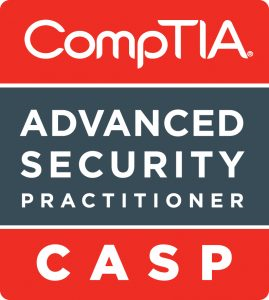 As devices become interconnected via internet connectivity, the threats of cyber security breaches are increasingly on the rise. Having the foresight to spot vulnerabilities in IT systems, for the sake of building digital defense mechanisms for your organization is a great competence to have. As all businesses, both manufacturing and service-based move towards a digital existence, it is imperative that organizations protect themselves from cyber-attacks that have the potential to ruin their operations, or breach digital boundaries and reveal their key competitive advantage secrets such as intellectual property. Enterprises are keen to prevent such occurrences, and need people with certifications such as the CASP certification exam to help them retain their competitive advantage.
As cyber-attacks become more complicated, the challenge of the CASP certified practitioner, will be to stay one step ahead of the game and utilize their combination of skill and creativity to stay one step ahead of the game. An in-depth system knowledge of IT infrastructure and its interactivity will be beneficial to the CASP practitioner. The CASP certification exam executes an in-depth analysis of current and future threats and facilitates the skills needed to tackle these exciting new challenges that the digital revolution brings.
The CompTIA team highlights the core focuses of the CASP certification exam as:
Enterprise security
Risk management
Incident response
Research and analysis
Integration of computing, communications and business disciplines
Technical integration of enterprise components.
Completing this examination allows you hands-on and practical experiences in the information security certification arena. CompTIA examiners pride themselves in offering practical skills compared to other certifications on the market. As a practitioner, knowing the "how" of systems, will give you a competitive advantage, compared to someone who only is theoretically grounded in the concepts of information security management.
Proactive action will always be required from an information security practitioner, as new devices, also identified as points of entry into information systems, are generated on an almost daily basis. Malicious hackers are always looking for innovative ways to breach systems, so having a heighted awareness of their moves, will allow you to take appropriate action.
When billions of dollars are on the line, CASP certified practitioners will become the digital police that facilitate the protection of critical consumer and business systems, and protect current and future fortunes.
Who qualifies for the CASP certification?
If you are a professional with at least 10 years of continuous experience in IT administration, coupled with 5 years of hands-on technical security experience, you are well on your way to becoming CASP certified. Along with the general CASP certification exam, you have the potential to be trained in protecting government information systems, which is critical knowledge for the defense of your own country's systems against external breaches.
Training resources for the CASP certification
Preparedness is the key to success in any endeavor. Various tools are available to facilitate the smooth execution of your CompTIA examination. The first tool is Exam-labs.com, which features http://www.exam-labs.com/info/CAS-002 as one of its offerings.  Exam-labs.com is a hub of examination materials. This medium is a valuable tool to facilitate appropriate preparation for this critical certification.
Additionally, online tools such as Skillsoft's CAS-002 eLearning  tool are great simulations of the real experience. As a guide that allows you self-teach, you can work through the CASP preparation process at your own pace, and utilize multi-dimensional modes of learning, to keep yourself engaged through the rigors of examination practice.
CASP related job enhancements
Payscale.com's February 2017 assessment of Information Security Analysts featured a salary range of US $50,335-$107,276 as the average of the practitioners they surveyed. This range is a good guideline of your worth once you receive CASP certification. As always, the salary is organization based, and it is in your own hands to command what you know you deserve, having worked through various projects in your professional tenure. The CompTIA certification examination is a potential goldmine for today's keen information security analyst.
How to the pass the CompTIA examination is at your fingertips with our ultimate guide in CASP mastery. The CASP examination serves as a credibility booster, who will facilitate the sustenance of your information security career, as the digital economy evolves.