Complete VMware Certification Training Guide
What is VMware?
Technology moves at a rapid pace with demands changing far before most people realize it. It's easy to be swimming with the stream, only to find months later you are now swimming against the current! Our Complete VMware Certification Training Guide will help you understand a little bit more about where the Tech industry is headed and what Virtualization has to do with that.
For years, solid physical networks and large data center style set-ups have been the bread and butter of large businesses. In the recent years though, changes to how we do server centers and business technology has created a revolution in the sphere of Virtualization.
Virtualization and the cloud have been on the rise for quite some time and this has created a need for people certified in running both VMware and Hyper-V. These mainline systems are used to boot up and deploy virtual machines. Many of the concepts between VMware and Hyper-V are actually quite similar, yet the terminology is vastly different. VMware has a long-history as the de facto program of choice for many businesses that dabble in virtualization and the cloud but Hyper-V is quickly rising to that level as well. Virtualization can save on resources, create secure test environments, functions as the basis for Data Centers and numerous Network set-ups. It simply put, is the future of business IT.
Why get a VMware Certification?
There are a ton of good reasons to get certified in VMware.
Firstly, success on the job! It's a stellar choice for making sure you have the skills and the knowledge required to be competitive today as an employee and business. These skills are in HIGH-Demand and make you a valuable asset as an employee.
Secondly, it's so common to have an up and coming Tech trend hit with devastating force those who are unprepared. By getting trained in VMware, you can be prepared for the increasingly demanding needs of the future as well as make sure you aren't caught untrained and incapable. Regardless of whether or not you WANT to dabble in virtualization, you MUST. It's the only way to be current and adapt in this changing world.
And third, Virtualization is a blast. Few things in Tech have so much freedom and potential for unique, challenging, and amazing solutions to different needs. Many of those in the VMware space, just love what they do!
Oh my goodness this is confusing!
The certification world is an interesting one, it's a little bit like the chicken and the egg. Without knowing technical knowledge, it's hard to know where to start. Without knowing where to start, it's hard to learn technical knowledge!
VMware has a breakdown of the main certifications that can be found on their website here. There are 4 main categories and a LOT of confusing titles!
Whether you are trying to take 2VO-620 or 2VO-621D is a bit mystifying! With fancy code names and an emphasis on a dare I say, arcane, realm of computer work, it's hard to know what to do. There are several different programs, career paths, and focuses that are included in the VMware world. This Complete VMware Certification Training Guide can help break some of this down for you to understand!
How do we begin?
For years, breaking into the Virtualization world required EXPENSIVE classes and training seminars just to begin pursuing Virtualization. As an entry point it usually cost $1500-3000 and wasn't as widespread of a technology. Recently though, entry level Virtualization Certification has been making the Virtualization path much more affordable and doable.
In just a few steps, you can forge a useful path for a career in VMware. It would take a VERY LONG time to exhaustively go through every certification, so instead we recommend this specific path as it is a good way forward to success.
First, start with the Foundations exam.
The 2VO-620 (vSphere Foundations Exam)
The vSphere Foundations exam, or 620 for short, is a 90 minute exam consisting of approximately 65 questions. This entry level exam can be taken from home (Non-proctored) and has a cheap price tag of $120 compared to the expensive long-form training sessions of more certs. This exam covers the basics of vSphere and gets your feet wet. It is one of the BEST options for seeing what this field is like and getting certified.
The 2VO-620 Exam is the precursor to 4 different certification paths, VCP6-DCV, VCP6-CMA,VCP6-DTM,
VCP6-NV. Each of those paths is a bit more intensive, normally requiring classroom instruction, continuing education, and more. Start with 2VO-620.
Next, Narrow in on a Career Path
Most people learning about VMware are not attempting to have an exhaustive knowledge of the whole process. Some are continuing education, others are perhaps shooting for the first level in Virtualization. VMware offers 4 Career paths with MANY levels that branch off from a major subject.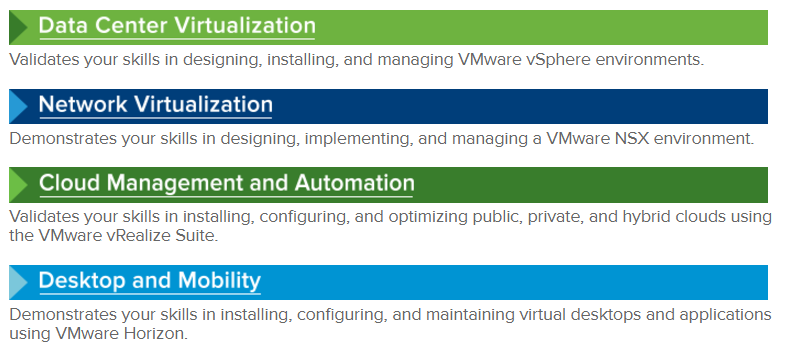 These four areas breakdown into four career paths,
Data Center Careers (Working on Server side environments)
Network Careers (Implementing the Network aspects similar to CCNA)
Cloud and Automation (Creating systems for using a cloud or having a business run behind the scenes systems)
Desktop and Mobility careers (Fascinating jobs where you can create virtual test environments using virtualization)
Pick a Career Path and Become an Associate!
There are 3 levels in the VMware Certification system, Associate, Professional, and Expert. The first step after passing your foundations exam is to become an Associate in one of the main four disciplines. We recommend the Data Center path as it is one of the largest growing fields (As are Clouds and Automation as well!) and is a diverse Certification.
Here are the best exams for the next step in getting certified!
2VO-621 and 2VO-621D
So the 2VO-621 is the next in line from the Foundations exam. It covers Data Center certification and associate level training. The 2VO-621D (Or delta) is the following level and oversees the realm of a Data Center Professional.
1V0-642
The Network Virtualization (VCA6-NV) v6.2 covers using Virtualization in a Networking set-up. This is the exam taken to become certified with VMware Network Concepts.
1V0-602 and 1V0-603
The 1VO-602 (Hybrid Cloud Fundamentals Exam) and the 1VO-603 (Cloud Management and Automation Fundamentals Exam) are both entry level certification tests and titles for Cloud and Automation. Since the subject is a little broader, there are actually two entry level certifications!
1V0-605
The 1VO-605 Desktop and Mobility Fundamentals Exam is required to be certified as a VCA6-DTM.
Study with a Free Guide Online!
All this is good and great, but it is a bit impractical. Random numbers and exam codes? The reason we think these are important, is they can help make it a little less confusing when pursuing certification. Without hands on experience in virtualization, it can be a bit hard to grasp what this is all about. I'd recommend going to VMware or Hyper-V and downloading a virtualization program. Normally you can get a free program that allows you to practice Virtualization. Next I'd dive headfirst into studying to get a feel for what virtualization entails and what fits for you!
One great resource is www.Exam-labs.com as it offers HUNDREDS of free tests for certifications and is one of the few testing resources that covers a wide-range of virtualization subjects (They have over 50 FREE exams on VMware alone!). Instead of struggling to grasp the idea, just go to Exam-labs.com, hop into a test or two (I recommend this one right here) and see if Virtualization is for you! You may fall in love with one of the most exciting in-demand industries in the Tech World! Using Exam-Labs you can see whether the 1VO-605 or the SVO-621 are a good match, this means that instead of spending hours going through a course only to realize it's not a good fit, you can practice on Exam-Labs and get a real, practical version of what these tests actually entail. This in turn can inform your decision! Either way, we know that by pursuing Virtualization, you are engaging a new and emerging technology that is sure to push your career to new heights!
Thanks for joining us on our Complete Guide to VMware Certification. We hope it helped! If you found this useful, please share this with friends and tell us how it helped. We strive here to make our guides easy to read and practical to all. Until next time, good luck and we look forward to hearing your success stories!