2019 Collection: 10 Best Free Cloud Storage Services
Cloud storage, unlike other storage options, helps correctly and accurately organize data and ensure security of all valuable information. There are numerous free Cloud storage services available today, and they can be used for business storage and personal usage. To choose the best one for you, it's important to know what options are available, how much free space this service offers to its users, and what features each platform comes with. We have done our research and we want to bring you the list of top 10 free Cloud storage services. Read through for more detailed information about each of them.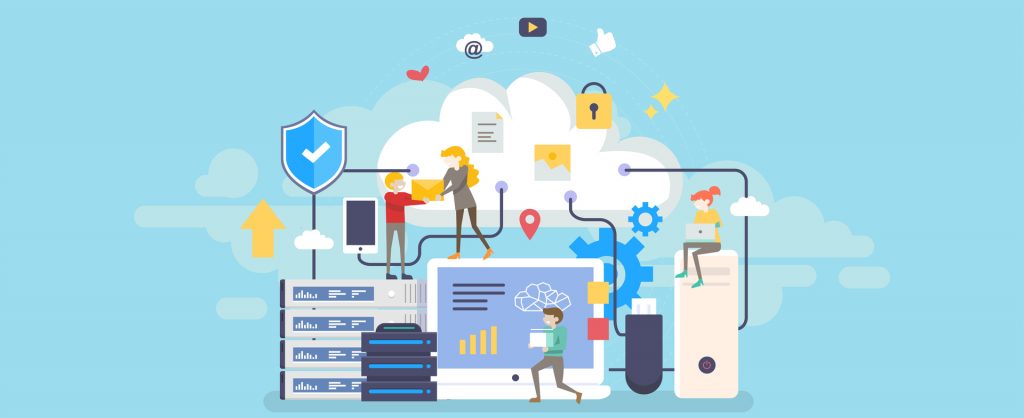 1.pCloud
pCloud is among the best free Cloud storage solutions for businesses that are looking for comprehensive and easy-to-use UX. It offers 10GB of free Cloud storage for each user. This is far much more than offers from other Cloud storage providers. The individuals can upgrade their accounts with an annual or lifetime subscription to a pCloud Premium (500GB) or a pCloud Premium Plus (2TB) plan. Besides, you can also increase the amount of free storage (10GB) to 20GB using various incentives, such as watching video tutorials, recommendations to friends, and so on.
2.Google Drive
Google Drive is one of the best and widely-used Cloud storage services available today. With a Google account, it requires very minimal setup. This storage service gives you 15GB for free. In addition to this, you can also subscribe to a higher storage plan. The subscription starts from $1.99 monthly for 100GB and it can go up to $299.99 per month for 30TB of storage. Google Drive allows businesses not only to store any file in it but also invite other companies, partners, employees, and stakeholders to view. There is also Google Drive offline services that help the users to view all photos and files without using the Internet connection.
3.Dropbox
Dropbox is a very powerful free Cloud storage option. What makes it more powerful than most free Cloud storage platforms is its excellent backup features and many other useful points. Any type of large or small PowerPoint presentations, videos, photos, and other large CAD files can be stored safely in Dropbox. It also provides the users with great sync features, which help in accessing the documents and files to Dropbox from iOS, Android, PC, Linux, Windows phones, and Mac. You can upgrade your account to 3TB or even more. You can choose a plan with unlimited space.
4.Mega
It is one of the most powerful free Cloud storage options available today and it is similar to Dropbox. Precisely, Mega provides 50GB of free space to its users. The individuals can download several files in the .zip format. You can also upload the files via the mobile app. Mega is the best Cloud storage service for businesses that need a great backup file option. Besides storage that can be upgraded up to 8TB for the ordinary users and unlimited space for business purposes, this platform also provides many useful security features.
5.Amazon Drive
Amazon Drive is another powerful Cloud storage service. The users can save their files and photos securely on Amazon Drive free storage space. It provides 5GB of free storage space alongside round-the-clock support. You can also upgrade to 100GB or 1TB with unlimited photo storage.
6.iCloud
Apple iCloud is literally the perfect free storage option for the Apple users. It is not only user-friendly but also secure. All files and documents can be stored in 5GB of free storage space. The individuals using this platform can easily and safely share their videos and photos with each other. You can also send messages, which will be saved automatically. It also enables to continue conversations from where they had stopped earlier.
7.OneDrive
Microsoft OneDrive provides 5GB of free storage to the users with an Outlook or a Microsoft account. You can purchase a plan with 100GB or even 1TB or 6TB. It is also built-in into Windows 10 and Windows 8 OS. OneDrive by Microsoft allows the individuals to store their videos, documents, photos, and any other type of info and easily access them from any iOS, Android, and PC devices. The service works perfectly with all Microsoft Office apps, including PowerPoint, Excel, and Words.
8.Next Cloud
The list of the best free Cloud storage services cannot be complete without mentioning Next Cloud. It has backup features and many others that usually attract the individuals. The users can keep track of all their data even if the device they had used is lost. Next Cloud is secure and helps its clients protect their data without the hassle.
9.Sync.com
Sync.com is another powerful free Cloud storage service available. It provides 5GB of free storage and you can upgrade it to 3TB. One of the most exciting features of this platform is Get-free-space. If the user of Sync.com wants to get more storage space beyond 5GB offered, all he or she needs to do is to tell his or her friends about it. If the individual spreads the word and his/her friends sign up to Sync.com, they will get 1 GB of storage for free, and the user who had recommended this service will also get 1 GB. There are also business plans for 2 or 100+ people with 10TB and more.
10.Media Fire
Media Fire is one of the most popular free Cloud storage services that is used for storing photos and documents online. Initially, it offers 10GB of free storage. One of the best features it offers to the users is that this free storage can increase 5 folds to a total of 50GB. The individuals can upload multiple files at once from Mozilla Firefox, Chrome, or any browser. Media Fire also helps the users to send their documents with a free and special one-time link that also lets the recipients share the documents with others.
Final Thoughts
Besides the above-mentioned free Cloud storage services, there are also many other great paid and free storage platforms. You can do more research and decide which one to use for your business or personal use. It is all about getting the best free Cloud storage option for you. So, compare the features of all available ones and pick the best one for your needs.