The Internet of Things: What Hot IT Skills Should You Have to Succeed?
The Internet of Things (IoT) is simply the merger of the digital and physical world. Basically, in IoT, ordinary objects are entrenched with technology such as sensors and Wi‑Fi to get a distinctive online identity and acquire the ability to interact with other everyday objects and their external environment. This endless network of "smart" devices promises an array of benefits not only for the businesses, but also for the individuals and society in general, including increased safety, reduced waste, and greater convenience.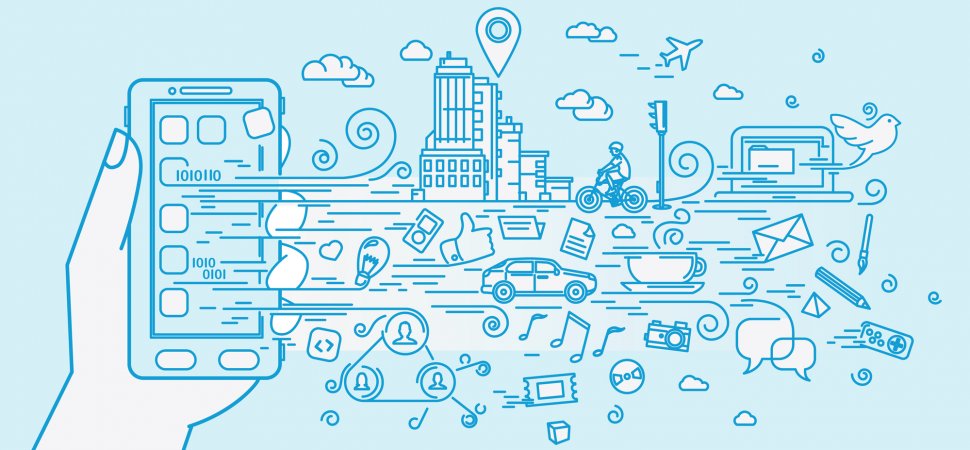 The precursor of IoT revolution is here!
Smart objects around us ranging from connected factories and fitness wearables to home appliances and even whole smart cities are actually coming online every day. From the look of things, this is nothing but just the beginning. As innovations in Cloud and mobile abound continue to rise, hardware broadband costs continue to fall, and our society continues to embrace the connected culture, IoT will eventually explode. According to the predictions of Gartner, there will be 26 billion devices on IoT by 2020, and its services and products will generate at least $300 billion per annum.
Big business is also all-in
SAP, Cisco, and IBM, among other tech giants, are increasingly launching the Internet business units and investing billions into the IoT infrastructure. Besides, the giant consumers and major industrial manufacturers, such as Philips, Ford, Bosch, and General Electric are working continuously to develop and manufacture the next generation of smart devices. And it is literally a feeding frenzy on the Internet of Things; many CV firms and IT trendsetters such as Intel and Google are rapidly acquiring promising software and hardware suppliers in the IoT ecosystem.
As IoT continues to expand, the radical IT professionals will enjoy a range of lucrative and challenging job opportunities. The following IT skill sets will be the most highly sought after in the era of the Internet of Things. Here they are:
1. Information Security
Cybersecurity is currently the biggest talent gap in the IT workforce. As the influx of IP addresses increases the overall complexity of networked devices and privacy concerns a potential exploit that comes with it, the cybersecurity specialists will be in very high demand. The IT security pros are skilled in assessing the vulnerability of networks and smart devices, wireless network security, ethical hacking, and public key infrastructure (PKI) security are already gathering up to assess and lessen different risks. The knowledge of privacy policy and data ethics can also help you further in advancing your information security career in the Internet of Things.
2. Business Intelligence
With a huge number of devices consuming and sending exabytes of raw information, there will be the realization of the "big data" true potential. The companies will strive to collect, analyze, and store intelligent devices data streams for actionable smartness. The business intelligence specialists who have the skills in data center management, sensor data analysis, Platform as a Service (PaaS), predictive analysis, and programming chops in popular major data platforms such as NoSQL and Hadoop will be better placed to meet all these needs. For the BI executives who are responsible for driving more opportunities in expanding IoT, strong business acumen will be the major differentiator.
3. UI/UX Design
The screens of tablets, PCs, and smartphones are rectangles. In IoT, objects will come in every size and shape. Some objects will have extremely small screens, while others will be without any. The talented user experience (UX) and user interface (UI) designers will be a very hot commodity as the Internet of Things providers endeavor to develop user-friendly, effective interfaces despite this paradigm shift. Most marketable skills for the UX/UI designers in the Internet of Things include Service Design and Responsive Web Design.
4. Hardware Engineering
The engineers of computer hardware build and design the actual electronic devices that underpin the movement of IoT. The demand for the specialists who have the skills to develop and install connectivity solutions such as Bluetooth and Wi-Fi will be very high. Other important skills in the Internet of Things include wireless sensor design, micro-electromechanical system engendering, quality assurance, and AutoCAD drafting. The hardware technicians with razor-sharp skills such as effective conflict resolution and written and verbal communication will also benefit as they will use these skills to successfully collaborate with production and design teams in IoT.
5. Mobile Development
Mobile devices, such as tablets, smartphones, and wearables, will be used to control most of the intelligent devices. This will drive and increase the demand for white-hot mobile app development job roles. The Android, Apple, Platform-wise, and iOS application developers will reap the most demand because these platforms currently account for more than 90% of mobile devices in the United States. The demand for the individuals who have experience in developing mobile applications that communicate with sensors and external hardware will tremendously increase in the proliferating IoT workforce.
6. Programming & Software Development
The landscape of the IoT development is still very diverse given that the industry is still in its infancy. There are currently many platforms to choose from. Actually, it will take a little longer before the stabilizing industry standards. However, programming skills are not equal and some are actually in very high demand. For example, Python, which is very popular with Raspberry Pi, is a chosen language. Also, Node.js is critical to the Internet of Things. It is a low-resource server platform managing connected devices, which is based primarily on the JavaScript programming language. The knowledge of C/C++ will actually be a must for anyone who would like to get into programming Arduino boards and microcontrollers and other more advanced scenarios.
7. Networking
Intelligent devices employ a variety of applications and sensors to effectively communicate with their environment. A wide range of networking techniques and tools are needed to get these smart devices to interact effectively. The network professionals will need to have top-notch skills in optimizing, designing, and maintaining large-scale traffic across redundant, secure, and reliable backbones. Furthermore, working knowledge of Wi-Fi and other common wireless connection methods such as 3G/4G/5G will be in very high demand. It also applies to the ability to support Near Field Communication, Radio Frequency Identification, and other wireless protocols that consume very little battery power.
Conclusion
As the Internet of Things continues to expand and as new tech breakthroughs and business challenges arise, the list of valuable and marketable skills will increase. Be sure to stay updated with the emergence of new ones.